Last night, I had a dream. It has to be a dream because I don't own a car and I dreamt that my car had been used without my permission. My friend Stanley was the prime suspect.
"Stanley!" I yelled. "Did you use my car without my permission?"
"I can give you the answer. I have nothing to hide." replied Stanley calmly.
"So?"
"But what's the point?"
"Huh?"
"I don't see any damage. Your car is just fine. What's the point of knowing the answer. Are you trying to drive a wedge between us?"
That's not all. Stanley's brother Charles and his sister Holly came out to lend support to his puerile copping out.
Yao mo gao chor ah?
Fortunately it was just a dream, so Stanley et al managed to get away with all this nonsense. However, such incidents can also take place in real life and just like in dreams, some people somehow get away with it. Let's leave this bad dream aside and take a moment to relax.
Sembawang Hot Springs Park was reopened on 4th January 2020. Located at Gambas Avenue between Woodlands Avenue 12 and Sembawang Road, it is the only natural hot spring and a public park on the main island of Singapore (I know there was one at Pulau Tekong).
In 1998, Mindef acquired the land containing the spring for the expansion of the nearby Sembawang Air Base. Responding to a public petition initiated by community leaders, the spring remained accessible to the public.
Then, on 1 March 2002, the park was closed for two months while upgrading and improvement works were carried out to manage the mud and puddles. As the spring remained popular, its potential redevelopment into a national park was explored. Finally in 2016, Mindef returned the land to the Singapore Land Authority. NParks then took over to redevelop and maintain the place, constructing amenities such as toilets and adding more greenery at a cost of $4.3 million.
On the grand opening of the park on 4th January 2020, Mr Ong Ye Kang and Mr Khaw Boon Wan turned up to grace the event. Obviously their attendance wasn't coincidental. Some Mindef representative and someone from NParks were also there. Yes, all this couldn't have happened without all parties (or are they actually the same party) involved coming to some agreement in terms of land ownership and transfer. Now our retirees and professionals who are in between jobs have a nice place to soak their feet and cook some eggs until their savings run out. Sure, we all know who to thank, don't we?
While the appearance of VIPs on the reopening day of the hot springs was obviously no coincidence, the strangely consistent trend of POFMA being applied on voices that criticise the government is an "unfortunate convergence of coincidents" as Mr Iswaran would assert. How unfortunate when not a single arrow went off target.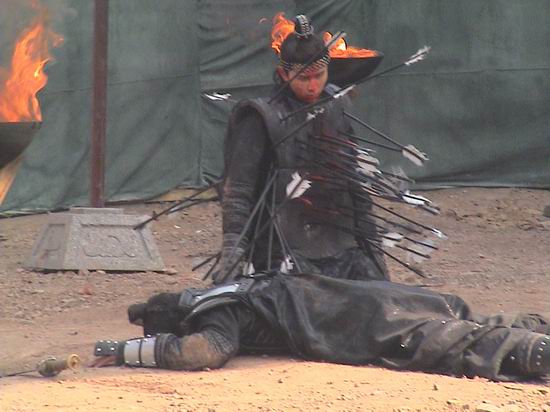 A local academic, without even bothering to read what was said by one of the accused party, summarily pronounced them guilty of misleading the public by drawing "freehand graphs" when their statement actually quoted data from the ministry which is why they are challenging the ministry's order in the High Court now. It's a positive move for free and intelligent debate and discussion in Singapore. Ironically, many of our academics and intellectuals seem to be against it.
Meanwhile, some issues have emerged at the hot spring; uncontroversial as the development of the park appears to be. About a week after the opening of Sembawang Hot Springs Park, we hear reports of unsavoury behaviour. Blogger Petunia Lee observed the distasteful sight of a domestic helper being made to wash her employers' feet. Miss Lee's attempt to cook the eggs that she had brought to the park was cut short when an old man dumped his dirty feet-soaking water into the pail holding her egg. Other observers reported egg shells in the pool, people washing their feet and throwing used water back into the pool.
Is this pattern of behaviour a mere coincidence? Or is it an inevitable outcome of a First World country with Third World citizens? What if these observers were accused of being ungrateful? $4.3 million spent and you still want to complain? And how did Miss Petunia Lee et al know that the inconsiderate characters were all Singaporeans? Could some of them be non-Singaporeans? Identifying them properly can go a long way to show that we are not such an ungracious society after all.
And before Miss Lee announces that she is ashamed of being Singaporean, she might need to ascertain that those folks who think so highly of their royal smelly feet are in fact Singaporeans. Yes, there is a point in making the distinction between PR and Singaporeans in more than one instance. Those who have the numbers, refuse to tell and yet insist that they have nothing to hide sound just like my friend Stanley.
But while it's important to make the distinction, it should also be noted that Singaporeans or others, the folks defiling our treasured hot spring park are people who can pander to Stanley-like statements as long as there is a place to soak their smelly feet.
© Chan Joon Yee
---
New Book!
Making Sense of the Three Kingdomns