A few days ago, I had a brief encounter with a bunch of foreign workers. They were simply ecstatic after collecting their free masks. I found one of them approachable and asked him why he was behaving as if he had won the lottery. He told me that he and his friends would like to kiss the toes of our leaders for providing them with free masks. I'm glad they can't vote.
Those of you who are not my Facebook friends probably don't know that I posted the following photo on Facebook on the evening of Polling Day. In my previous blog posts, I predicted a result no better than GE2015. While watching the results being announced, I decided to switch off after quite a number of SMCs were lost.
I was probably fast asleep when the results for Aljunied and Sengkang were announced. It was not till I checked the results the next morning that I found out that WP has won Sengkang and Aljunied. I didn't expect WP to lose Aljunied, but neither did I expect it to win Sengkang. WP's victories brings 10 opposition MPs into the incoming Parliament. I saw many people celebrating. PN Balji wrote that voters have matured. Well, Tan Jee Say compiled essays under the title of A Nation Awakes post GE2011 too, but the nation went right back to sleep during GE2015.
Sengkang would not have been won if not for Jamus Lim and the live debate. There's no telling whether we're going to have another one in the next GE. I'm certainly not euphoric about the results. There is no indication that Singaporeans want change. As Vivian Balakrishnan pointed out, WP is merely a lighter version of the PAP and Jamus asserted that he is merely a mouthpiece for his party.
To see any real changes and new ideas in this slowly but surely declining society, we need to have the likes of Tan Cheng Bock, Chee Soon Juan and Paul Tambyah in Parliament. With only WP and PAP in Parliament, people have shown that they are still voting for what they mistakenly deem to be safe and predictable. No, I don't think a celebration is in order. What we're seeing (probably not even getting) is merely a consolation prize. If the favourable results of 2011 can turn into a disastrous 2015, 2020 can also turn into a catastrophic 2025. Check out some of the yao mo gao chor results.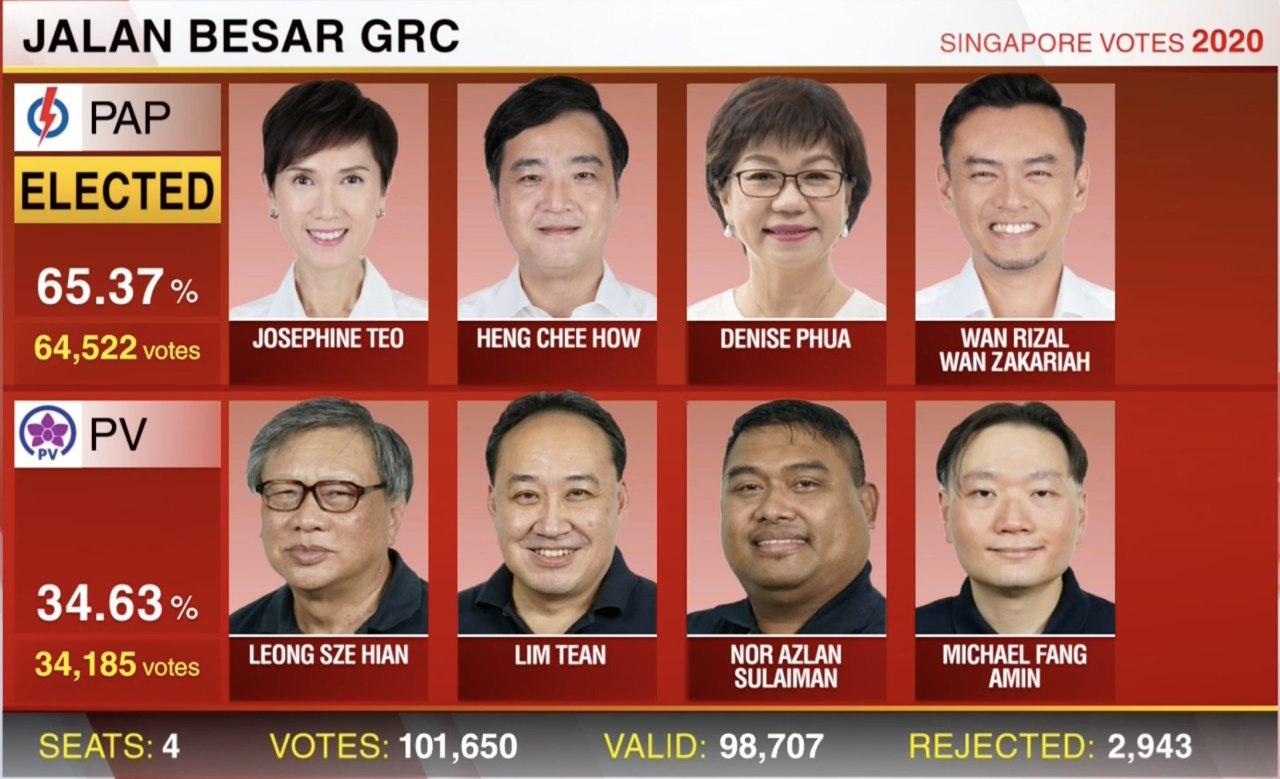 Ah, our minister of tight spaces, worker dormitory outbreaks of Covid-19 etc. She's done better than our DPM, Mr East Coast Plan. Is it because people hate Lim Tean because of his face or the way he talks? Or is it because they can't get enough of her unintentional jokes? Well, the folks at Jalan Besar don't think she should be replaced.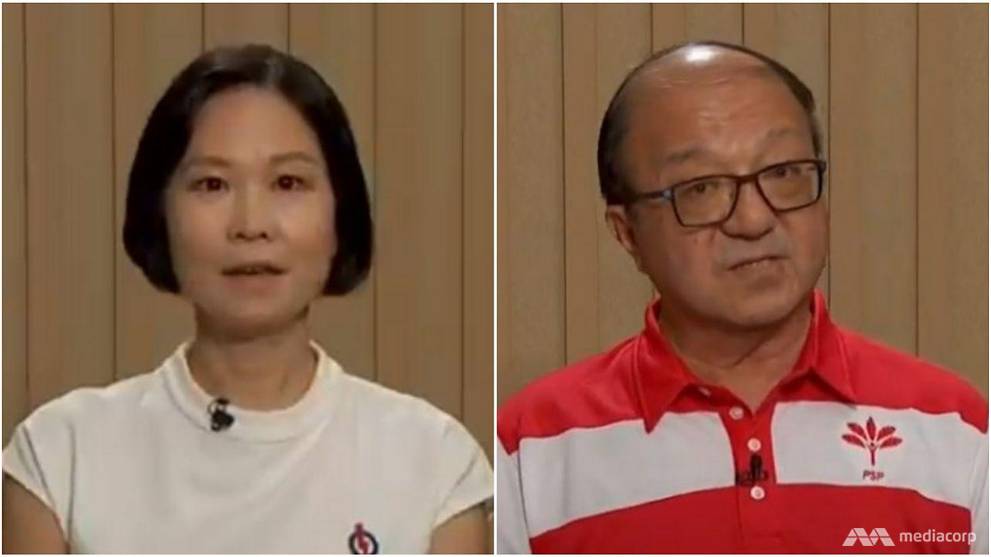 We've got yet another paper general on the left and a caring, down-to-earth doctor on the right. The folks at Marymount chose someone who had just stepped down from the top ranks in the military.
The candidates have to respect the people's choice, but I don't. You can forgive them for trying Murali out during the by-election, but after the incidents of locked hose cabinets, no water in the hoses and other safety issues in the estate, the majority still want him. Yes, the fire didn't affect them. It's somebody else's problem.
Some moronic PLP remarked that opposition candidates are not qualified. Well, can you name me one person who is more qualified to manage the Covid-19 crisis than Prof Tambyah? Well, if people choose to throw a gift out of the window, I can only say yao mo gao chor ah?
And contrary to what the PLPs believe, the SDP is not a fly-by-night party. They have economists who can craft sound policies which do no sacrifice people for profits. Dr Vivian alleged that there are "holes" in the SDP's polices. But these policies have not even been put to the test yet whereas there was in fact a big fat hole in Dr Vivian's massive overspending (exceeding its original budget of S$104 million by three times) for the YOG in 2010. The issue has been brought up during GE2015 – to no avail. People didn't seem to mind!
This is really the deciding result in this election even though I didn't see that much hope. It's not that I expected Dr Tan Cheng Bock to win, but if any opposition party member should win at all, I think it ought to be Dr Tan (yes, not even Jamus Lim). This is why I'm not thrilled by the 10 WP MPs entering Parliament. It'll just be more of the same stuff. PSP and SDP are both capable of bringing new and different ideas to the table and engender a breakthrough. The way I see it, WP is only a backup. Without PSP and SDP, we can't expect much to happen. It'll still be pretty much business as usual for the government.
Yesterday, when I was visiting my mother at SGH, I overheard a group of elderly men talking about GE2020. They lamented that young people (opposition supporters) are so difficult to please these days. They also made a lot of repetitive remarks and the most often repeated remark was:
"Government give you job, give you house, give you food and such a safe country still no good ah?"
They talked about the bad old days when they didn't have jobs and the country was poor and dirty. Then PAP came. They had jobs and Singapore prospered. For that, they felt that they had to show their "gratitude" and support the the party even though the jobs, food and housing were not really "given" to them. It's just that they were so hungry and desperate that a tiny morsel of opportunity was enough to gain their eternal gratitude.
Being a history buff myself, I strongly believe in learning from history. But it's one thing to learn from history. It's another thing to live in it. When Dong Zhuo proved to be a menace, Cao Cao tried unsuccessfully to assassinate him. He even organised an alliance to fight Dong Zhuo, only to get badly bruised and beaten. Cao Cao was the people's hero. Who would have thought that within a few years organising his former enemies the Yellow Turban army from Qingzhou and establishing a base at Xuchang, Cao Cao would become the new menace to all the regional governors.
The old folks in the hospital were in their late 70s and 80s. They lived in times when they didn't lose their jobs to foreigners. Not only did they thrive on the income of a taxi driver or a hawker, they managed to nurture local university graduates. They've collected their CPF in full or didn't even need to use their CPF. Very nice, but all that is history! Circumstances now don't affect them, but they will affect current and future generations. And even though I wish them a speedy recovery, I'm glad that they didn't get to vote.
Going back to the foreign workers who would like to kiss our leaders' toes, their mentality may explain why their country is not as prosperous as it should be.
© Chan Joon Yee
---
New Book!
Making Sense of the Three Kingdomns