Singapore is a land of ironies. It is also a place where SOPs and protocols must be followed to the letter, especially in the public sector. I remember an incident some years ago when I was communicating with an officer who gave me two options. I picked Option A and she replied, subtly hinting that Option B would be a better choice. I changed my mind and replied "in that case, I choose option B".
She gave me a call and told me she had to delete my reply and asked me to reply again, this time taking out the "in that case". She didn't want it to look like she was influencing my decision. Caution, caution.
Our civil servants are paid to follow protocols and even though there are some black sheep in the flock, they are some of the most honest bureaucrats in the world. Nevertheless, there are times when they bend the rigid rules for the benefit of folks like you and me – without any gain on their part. We hesitate to thank them on social media for fear of getting them into trouble even though in the depths of our hearts and minds, we know that their acts of compassion are actually commendable. It's an irony that as the rules pile up, the more our society appears cold and uncaring even though there are still some caring people out there.
One evening, I was going to check out some groceries at the neighbourhood supermarket when I came across a very prominent lighted signboard that said Writer's Guild. I was delighted. It's so good to see that Singaporean writers are finally given the recognition that they deserve. I even pinched myself to make sure that I wasn't dreaming. I was about to bang on the door and shout "let me in, let me in", but when I got to the entrance, I was disappointed.
Like many places in Singapore which are saddled by the burden of profitability, this is actually some dressed-up-to-look-atas tuition centre targeting the usual kiasu parents. And of course, it's not a crime to market a business this way and neither does it offend the majority who regard writers with an antagonistic mix of awe and scorn. The same logic applies to companies and institutions that use Greek names to make their brands sound atas while the financial woes of Greece remains the object of their incessant scorn.
Atas or not, I doubt if many of these parents really want their kids to become writers. 30 years ago, my income from writing bought me air tickets to Bangkok. Nowadays, I can only buy char kway teow – to cook. Singapore's astute parents can't be unaware. Ironically, invoking the romantic image of people who toil on the keyboard to get paid a pittance is used as a marketing tool to attract parents who obviously want enviable financial positions for their kids. Since the business is expanding, I guess the marketing strategy must be working.
And if this sort of marketing works, someone unfamiliar with Singapore might expect the government's educational videos to be feature educators in the form of Dickens or Rowling impersonators. Well, not really. We do have Phua Chu Kang and Ah Lian actually. Yep, more ironies. I can understand Michelle Chong perfectly if she speaks as Michelle Chong. Why does she have to condescend and act Ah Lian to draw our eyeballs? Listening to Ah Lian is tiring and occasionally gives me goosebumps. I'm just not sure how many people are amused by the character of Ah Lian she plays, but frankly, I think the vast majority of Singaporeans who speak English would understand her perfectly if she presented things to us as Michelle Chong. While I've been guilty of playing Hokkien peng myself, there is no need to keep getting into a partially educated character all the time. Ironically, her Ah Lian character is used to educate us. The irony of the world's highest PISA scores.
Next, a headline like "Singapore Covid-19 Vaccine Recipients Report Side Effects Like Fever & Soreness" got many kiasi Singaporeans into panic mode. Is it safe? Is it really safe? Is it really, really safe? What if? What if? What if? Like most things in the real world (except for PAP victory in the elections) there are no guarantees. Some of the "adverse effects" to the Covid-19 vaccine that have been reported in Singapore among those who had taken the shot include:
Low grade fever
Fatigue
Muscle soreness
Pain
Redness
Swelling
And people are worried? Yao mo gao chor ah? Some people get mild flu symptoms from flu shots too. Nothing unusual. As for the sore arm, is it even worth mentioning? And we had a dumb journalist who asked why the vaccine is not made mandatory. You want the panic level to hit the roof? It's good that people have a choice and I find it quite amusing that some people keep asking me again and again whether I feel OK after the shot, as if I shouldn't feel OK.
On a more reassuring note, Minister Chan Chun Sing revealed that "the city-state has managed to attract S$17.2 billion in fixed asset investments last year, up from S$15.2 billion in the previous year." The only problem is, how meaningful is this piece of "digital information" for the many "analog" businesses that have been ruined during this period? Teo Heng KTV Studio is going to close most outlets save 2. Looks like I'll be singing in the bathroom for a long time.
Next, we have a very sizable forest that is going to be bulldozed to make way for residential property. Yao mo gao chor ah? I thought our fertility rate is the lowest in the world and the immigration tap has been turned off? Well, the same person who assured us that TT data will not be used for any purpose other than Covid contact tracing had also assured us that our population won't hit 6.9M let alone 10M. Now, a 33-hectare (61.668 football fields) forest is to be cleared for housing. Yes, the numbers just don't add up (just as in YOG). And after removing that existing climate-regulating forest, we're going to spend $100B (or more) to artificially fight climate change. Who profits from all that real estate development? From whom will that 100B be extracted? Maybe it does make sense after all.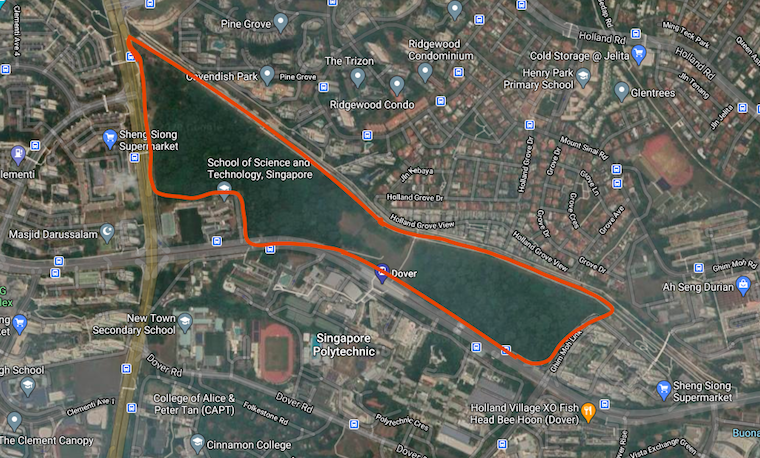 Folks who benefit from all this (and regard forests as obstacles to "development) will of course not complain. As for the rest of us, there are too many unthinking, unquestioning PLPs who thought that Chee Soon Juan was talking nonsense. Interestingly, someone remarked that nature-lovers should not get Dr Chee involved and "politicise" the issue. That's interesting. Does it mean that it's not political when an office holder is involved? Does it mean that politics is not an issue even if an unelected candidate from the ruling party is involved?
I bought a Samsung device more than a week ago. They promised a free gift, but it didn't come with the device at the shop. I had to go online to redeem it. They will send it to me. Yep, that's another dirty trick to extract your home address and contact information. The gift is not really a gift. It has been almost 2 weeks since I did the redemption online. Even my Taobao packages ordered at the same time have arrived and that "free gift" is still nowhere in sight. I doubt I'm going to buy another Samsung device again. I'm also not going to watch another Uncle Roger video and as for that Korean star who denied that kimchi is Korean, I've never followed her anyway. Even though I'm not a fan of Confucius, it's appropriate to quote him in this instance.
子曰:三军可夺帅,匹夫不可夺志
That's for the haters who think I'm a Westernised banana who knows no Chinese and can't identify with their worship of the mainland Chinese government. Confucius said that the three guards (vanguard, middle guard, rear guard) can have their commander taken away from them and still function. An ordinary man cannot function if you have his will taken away from him. For those who think they know Confucius better, they probably haven't read Prof Li Ling's book. Another irony – those who invoke Confucius and think they are more Chinese than me don't really know Confucius at all.
Finally, we go up north where the Petaling Jaya police chief not only dropped charges against a woman caught shoplifting amid MCO 2.0 hardships but actually delivered food aid to the destitute housewife after learning about her situation. The police discovered that the family was struggling to make ends meet as the husband who is a technician for elevator maintenance, does not have work currently. The total value of items that she had attempted to shoplift was RM58 — including sausages, a pandan cake and fever relief pads for her sick child.
Going back to my introduction, how many of our civil servant would have the courage to make such a call? Mention any crime and you'll have all the keyboard warriors baying for blood, suggesting lengthy prison terms and even torture. While the actions of the PJ police won praises from practically everyone (including Singaporeans), the same situation, if it occurred in Singapore, is a lot less likely to have a happy ending.
That's because while Singaporeans may support such acts of kindness in another country, most would be very cautious about exercising judgement which leads to any wrongdoing going unpunished. They don't even feel safe giving advice for fear of being accused of inducement as seen in the case of email exchanges between me and that officer. In Singapore, anything approaching the level of magnanimity and deviation from the norm as seen in the PJ's police can only be initiated at the level of Minister Shanmugam. The rest of us are dictated by the rule book, period.
But make no mistake, most of us would be reluctant to unleash ourselves. Even as we praise the PJ police, we would not allow one of our own to do the same. Maybe jail her first then take care of her family for her but dropping the charges? No way. In Singlish, "everything also must law by law". It's all deeply embedded in our DNA. Consciously or unconsciously, we have become Lenin's cogs and wheels of the system, virtually deprived of our individualism. We abhor any disruption to our routine. Many professionals don't even know what to do with their time if they retire. Needless to say, even more people don't know what to do with their freedom. That's why we Singaporeans are so proud of our harsh, unflinching laws, low crime rate. That's why we have zero tolerance for strikes, protests and demonstrations. People support these draconian laws because they protect our miserable lives on the hamster wheels from which we simply cannot be separated so we could take a step back and think. For many Singaporeans, that's the only life they know.
© Chan Joon Yee
---
New Book!
Making Sense of the Three Kingdomns