Sometimes, you don't have to be Nostradamus to see the future.
Everybody is getting excited about the land border reopening between Singapore and JB. But for the moment, it's probably only going to be used by Malaysians stuck in Singapore for two years. This VTL is quarantine-free but there are some quotas and conditions which may dampen traveller enthusiasm. Given the conditions and restrictions, it won't be feasible for those who just want to make daytrips – for the time-being. For Singaporeans interested in holidaying in Malaysia for weeks, it might be worth considering. The CNA video below explains why only designated buses are allowed and trains may also be allowed in the future. There are two routes, one operated by Transtar Travel (16×2 trips) and the other by Causeway Link (16×2). You can skip all the drama, but even thinking with your butt can tell you what to expect on Day 1.
The bus trips are open for booking as of this morning and fresh off the press at CNA:
Checks on the Transtar site at about 8am found visitors placed in a queue due to "high user volume".
However, when directed to the booking page later, CNA was unsuccessful in selecting one of the time slots for the available bus services.
The site later returned a message saying tickets were sold out.
Though the Transtar website could later be accessed shortly after, CNA remained unable to book tickets in either direction.
An error message read: "Dear valued customer, we are experiencing extreme high traffic and unable to serve your request now. Please try again later. We are sorry for any inconvenience caused."
For Handal Indah, also known as Causeway Link, the other bus service plying the land VTL between Johor Bahru and Singapore – a check of the firm's website at about 7.30am indicated that the virtual queue for bus tickets would begin at 8am.
However, a subsequent check at 7.50am showed that the virtual waiting room had already taken effect, with those in line assigned queue numbers above 3,500.
A later check of the site at about 8.15am returned a queue number of 13008, with more than 12,000 users still waiting for their turn.
For the rest of us, we might want to wait for the mayhem to settle a bit first. The diagram below is self-explanatory and quite clear about what is required for this VTL. The only thing that puzzled me (not mentioned in the video) is the SG arrival card. We've never had to submit an arrival card when coming in to Singapore, but it seems that that is required now. You can log in to the page linked here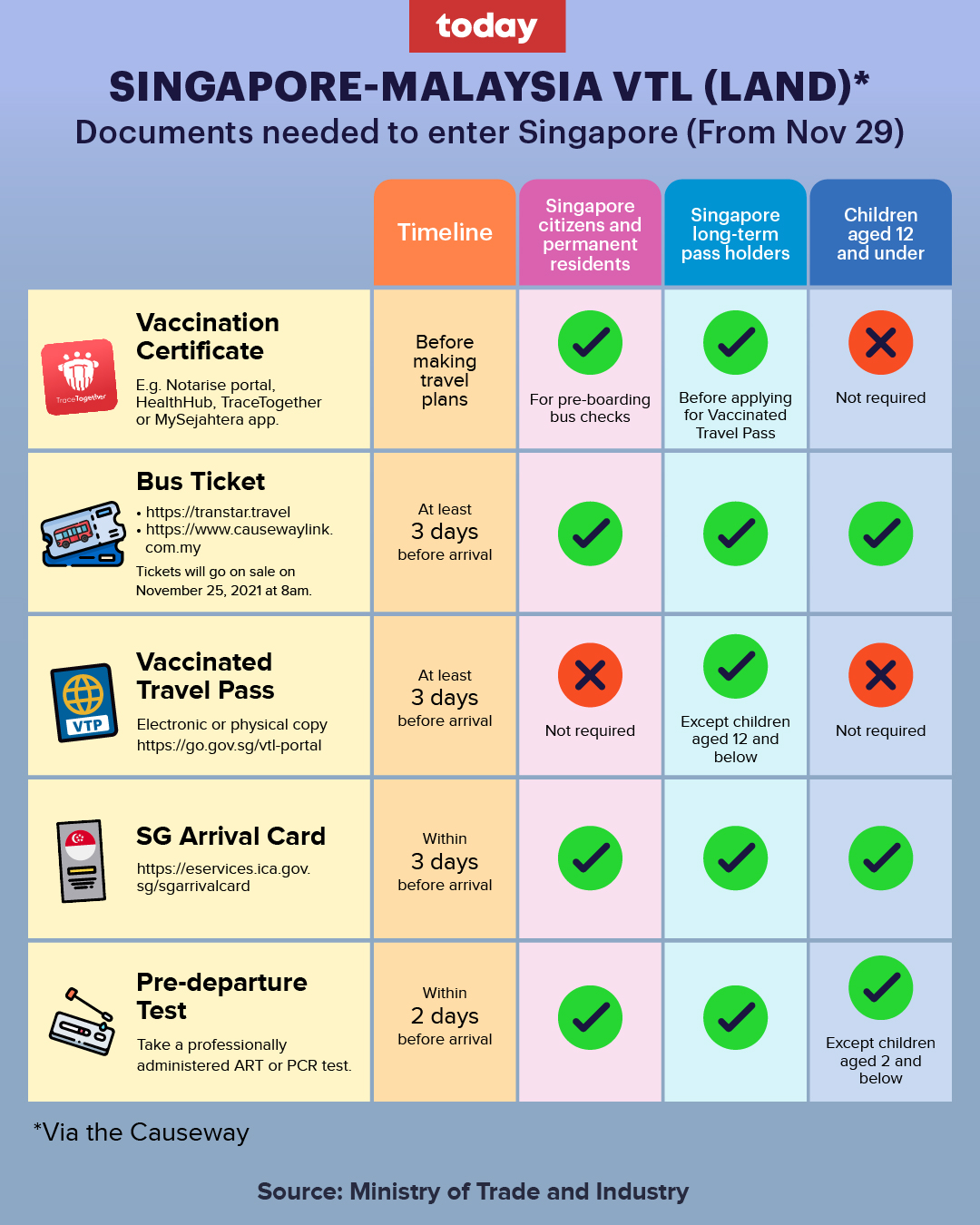 What you should note when filling out the arrival card online:
You can submit your electronic health declaration 3 days prior to your date of arrival in Singapore.
Section 55, Infectious Diseases Act –
You are required to:

Complete every item in this health declaration card, and
Submit it to the Officer-in-Charge upon disembarkation.You may be subject to a medical examination upon arrival in Singapore.

Section 15, Infectious Diseases Act –
You may be isolated/quarantined if:

You are infected or suspected to be infected with an infectious disease; or
You are or suspected to be a contact of such a person.

If you are unwell, please inform the crew onboard, where applicable, or any appropriate personnel immediately.
Besides the madding crowd, there are also security issues to look out for after businesses have been starved of tourists for a long time. Remember that infamous RM1,000 Langkawi sea bass? Then yesterday, I saw a video of a snatch thief in action outside JB City Square. Have some of the starved and desperate folks in JB turned into criminals? Is VTL going to lead the unsuspecting Singaporean victims in for the kill?
Meanwhile, the long-drawn case involving Wuhan residents Shi Sha and Hu Jun was finally reaching a conclusion with Shi Sha sentenced to 6 months' jail and her husband Hu Jun was sentenced to 5 months' jail – until they decided to appeal! At this point in time, there is hardly any coverage in mainland China's state media.
Nope, it ain't over yet and I'm not at all surprised. Expecting it even. In fact, if they somehow happen to garner enough sympathy (not likely but possible) from their爱国党 to claim 辱华 against us, this appeal will come under some diplomatic pressure. Can you imagine what may happen to Singaporeans in China if these two jokers are of the same calibre as that bowl of porridge?
As long as no one is held hostage over there, I don't really care if they give these two jokers a hero's welcome when they get released from prison and return to their 伟大的祖国.
© Chan Joon Yee
---
New Book!
Making Sense of the Three Kingdomns